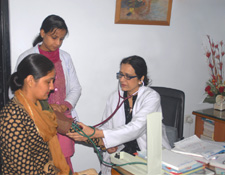 Dr. Harleen Kaur
MBBS, MD ( OBST AND GYNAE)
Director APEX Hospital

Over 30 years of experience in the field of Obstetrics and Gynaecology
MBBS – Government Medical College Patiala
MD Gynae and Obst from Government Medical College , Amritsar
Ex. Gynaecologist at Civil Hospital, Jalandhar
Life member of FOGSI
Apex Hospital offers a complete & Comprehensive range of in patient & out patient services spanning the needs of women from pre pubertal to postmenopausal years. Out patients department includes routine check-ups for Obstetrics & gynaecological complaints along with infertility workup for both men & women.

Out Patient Procedures
Screening for all gynaecological malignancies, trans abdominal & trans vaginal ultrasounds for gynaecological and obstetric evaluation, follicular study.
Colposcope for diagnosis & treatment of cervical lesions including malignancies.
Well equipped central laboratory for all routine & specialized investigations.
Obstetric procedures include minor procedures like dilatation & curettage, dilatation & evacuation, MTPs

Ante-Natalcare
We offer Ante-natal checkup with Ante-natal and parantcraft classes, specially designed for mothers to be and fathers to be in preparing for the task ahead, both physically and psychologically.

Obstetric Care
Normal deliveries, painless deliveries, cesarean sections

High Risk Pregnancy
High risk obstetric care to look after patients with high-risk pregnancies, associated with diabetes, high blood pressure, heart disease, previous pregnancy losses, growth retarded babies etc . NICU ( Neonatal ICU ) , PICU back up available.

Conventional Gynaecology
We provide specialist medical as well as surgical management of all types of gynaecological problem i.e. Menstrual abnormalities, prolapse, fibroids and other tumours of the uterus and ovaries, tubal recanalistion by microsurgery and treatment of the infertile couple. High-risk surgical patients (such as those with high BP, heart disease etc) are cared for with special monitoring in the OT and then in the surgical and medical ICU as backup if required,special emphasis is on gynaecological endocrinology problem. Menopausal women are cared for in with routine checkup and HRT.

Laparoscopic and Hysteroscopic surgeries
State-of-the-art Gynaecological surgery is now available to you for complete and safe treatment with world-class equipment and expertise in minimally invasive techniques. Well trained surgeons with years of experience can individually tailor almost all gynaecological operations to your need using this modern modality of surgery. Ectopic pregnancies, ovarian cysts and hysterectomies can be performed laparoscopically/ keyhole method, causing least pain and early return to your daily activities. Uterine fibroid , septum , RPOC , foreign body surgeries are performed hysteroscopically using state of art Bipolar resection technology .

INFERTILITY
Infertility procedures include diagnostic procedures like HSG, hysteroscopy & laparoscopy as well as therapeutic procedures like micro ovarian drilling, adhesiolysis, Uterine fibroids/septum & surgery for endometriosis. IUI / IVF – ICSI for infertile couples .The obstetrics & gynaecology department has qualified specialists, trained nurses & paramedical staff & latest equipment to deal with high risk pregnancies & offers extensive facilities for mother & child care.