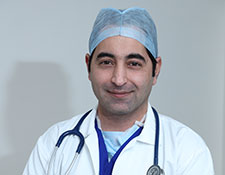 Dr. Jasmeet Singh
MBBS, MS, M Ch Neurosurgery
WFNS fellow Germany
Visiting Scholar INI Hannover Germany
Email: jasmeetthukral80@gmail.com
Dr. Jasmeet Singh is a Consultant Neurosurgeon currently attached to Apex Hospital, Jalandhar. Earlier, Dr. Jasmeet Singh worked as an Associate Consultant at Medanta-The Medicity Hospital (Gurgaon), one of the largest hospitals in South Asia. He also worked as an Associate Consultant at Paras Hospital (Gurgaon) under Dr. VS Mehta (Padmashree), and at Grant Medical College, Mumbai, as Assistant Professor. He is well-versed with most neurosurgical cases, including micro-neurosurgery, Minimally Invasive Neurosurgery and endoscopy. He has worked at Patel Hospital Jalandhar for a period of more than 3 years.

After graduating from GMC Nanded with the MBBS degree, Dr. Jasmeet Singh completed a one-year rotatory internship commencing March 2002, from the Government Medical College & Hospital, a tertiary care hospital in Amritsar, serving in the departments of Internal Medicine, General Surgery, Obstetrics & Gynaecology, Preventive & Social Medicine and allied subjects. Dr Singh was university ranker in first and third professional exams.

Dr. Singh then worked as Resident in the Department of Surgery for three years at GMC Aurangabad, for his MS (Gen. Surgery) training. Here he developed skills for handling emergency surgeries and obtained considerable elective operative experience, including for vascular repair and AV fistulas.

During his MCh (Neurosurgery), Dr. Singh worked as Resident in the Department of Neurosurgery at GRMC Gwalior, for three years from June 2008. This is a tertiary care centre with the only neurosurgery department in the state of Madhya Pradesh. During this period Dr. Jasmeet Singh gained experience in routine as well as emergency cranial and spine surgeries. He has good working experience in emergency trauma craniotomies, lumbar and cervical disc surgeries, CPA tumors, gliomas, meningiomas, spinal SOL and CV junction anomaly surgeries, and aneurysm surgeries.

Dr. Jasmeet Singh has 25 articles published in renowned national and International journals, of which three are original research articles on the topics of silicon patty, ultrasonic bone scalpel, and anterior skull base fractures. He has attended and actively participated in numerous conferences and organized and made presentations at workshops and courses on a wide range of topics in the fields of Neurology and Neurosurgery.

Dr Singh continued to pursue advanced studies at various national conferences. He was awarded prestigious clinical fellowship at Germany by World Federation of Neurosurgery (WFNS). He completed his fellowship in September 2017. He also received special training from Prof Samii at INI Hannover (Germany). He gained experience in Minimally Invasive techniques, Vascular bypass and increased his knowledge of recent advances in the field of neurosurgery.

Dr Jasmeet has special interest in brain tumors/skull base tumors and minimally invasive surgery (Brain and spine).