The Department of Endocrinology & Diabetes is headed by Dr. Akshata Desai.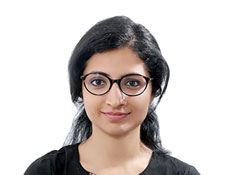 Dr. Akshata Desai
M.B.B.S, M.D. (USA), D.M.eq(USA)
Endocrinologist and Diabetologist
American Board Certified
Email: akshatadesai1@gmail.com
MBBS from Bangalore Medical College.
Internal Medicine residency from State University New York (USA).
Endocrinology and Diabetology fellowship from State University New York (USA)
After 6 years of training at top institutes of USA, Dr. Akshata Desai left a lucrative career in US to serve the people of India by providing International standards of Endocrine and diabetes care in Jalandhar, Punjab.

Dr. Akshata Desai is well trained in management of Diabetes, Thyroid disorders, Obesity, Reproductive disorders (PCOD, Impotence, Gynaecomastia), Male and female hormonal disorders, Metabolic bone disease (Osteoporosis), High cholesterol, Pituitary disorders, Adrenal disorders, among other complicated endocrine conditions.

Dr. Akshata Desai was awarded the prestigious Young Investigator Award by the American Association of Clinical Endocrinologists in 2014 for her contributions to the field of diabetes and endocrinology. She was rated among the top physicians of USA 2015 by consumers' research council of America.


Services Offered:
Diabetes
Thyroid Disorders
Obesity
PCOD
Male & Female Hormonal Disorders
Metabolic Bone Disease which includes Osteoporosis, Vitamin D deficiency, Calcium deficiency.
Pituitary & Adrenal Disorders
AWARDS & RESEARCH