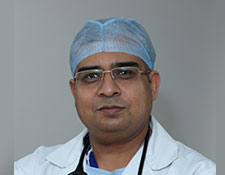 Dr. Abhishek Kumar
M.B.B.S, M.D (Anaesthesiology)
Consultant Anaesthesiologist & Chief Intensivist
Dr. Abhishek Kumar MD anesthesiology is working as a critical care specialist and anesthesiologist in Apex Hospital. He is graduate MBBS from king George Medical College Lucknow after that he did is masters degree MD Anesthesiology from GSVM Medical College Kanpur. He was former senior resident in SGPGIMS Lucknow where he obtained his experience in field of Critical Care medicine and Anesthesiology. He did his short term fellowship in Anaesthesiology and Critical Care from RKU University Ulm Germany and Singapore General Hospital Singapore. He had worked as consultant Critical Care and Anesthesiology in Patel Hospital Jalandhar for 10 years. He worked as Head of the department Critical Care medicine in Capitol Hospital Jalandhar and Sacred Heart Hospital, Jalandhar.

His field of interest is in Critical Care medicine and having experience of managing patients who are very sick in ICU and on ventilators. He is well versed with all modern monitoring equipments of Intensive Care Unit and involved in patient care directly. He is taking all efforts to make infection control in ICU, dietary plans, teaching of nursing staff as well as Junior Doctors .He believes in multi speciality integration to provide best patient care. His motive of working is to provide cost effective dedicated patient centric individualized care in ICU.

An intensive (critical) care specialist is a medical specialist, trained and is to be proficient in the comprehensive clinical management of critically ill patients as the leader of a multidisciplinary team. Critically ill patients include patients with life-threatening single and multiple organ system failure, those at risk of clinical deterioration as well as those requiring resuscitation and/or management in an intensive care unit or a high dependency unit.

The critical care specialist has clinical skills that include the ability to recognise and manage the disturbances associated with severe medical, surgical, obstetric and paediatric illness and to diagnose and treat the conditions that cause them. This usually involves invasive and non-invasive diagnostic techniques, monitoring, and treatment modalities designed to support vital organs.

The critical care specialist is also an expert in end of life care, the diagnosis of brain death, and support of the organ donor.

Critical care specialists are also frequently involved in the management of deteriorating and seriously ill patients outside the intensive care unit as well as the transport and retrieval of critically ill patients.

To facilitate his or her practice the critical care specialist has advanced communication skills that enable appropriate and effective interaction with patients, families, other team members and referring clinicians, and that enable collaborative, multidisciplinary practice.

The critical care specialist continues to learn throughout professional life and acknowledges that involvement in teaching, research; quality improvement and administration are integral to the role.